Dr. James Krumpak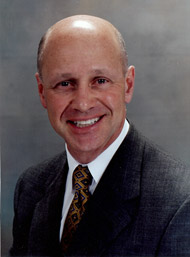 "I came to chiropractic as a vocation when I received successful treatment for a health problem of my own after having traditional medical treatment fail me.
I have come to see my work as a noble calling that affords me the opportunity to provide natural, holistic, effective care to others without the use of potentially dangerous drugs or surgery." Dr. James Krumpak
The United States as a nation–the most prosperous nation on earth–ranks somewhere around 40th in total health out of the almost 200 countries in the world. I believe one significant reason for this is that our health care model is ineffective and simply wrong. I'm trying to change that one patient at a time with chiropractic."
A Heart For Poland
Dr. Krumpak has been practicing as a licensed chiropractor in Ohio since 1982. His office is located on Route 224, just east of I-680, on the border between Poland and Boardman. He has been there since 2003. Before that, he practiced for nearly 20 years in the Liberty Township area of Trumbull County. He is a life long resident of the Mahoning Valley, growing up in McDonald, but now living in Poland since 1989. He resides there with his wife Sue whom he married in 1988. He and Sue have three children, Katie, Karen, and Kevin. Dr. Krumpak graduated from Oberlin College with a bachelor's degree in biology before enrolling at The National College of Chiropractic. He graduated Summa Cum Laude from "National", second in his class.
Helping Injured Patients Heal
Besides certifications he has earned in Orthopedics and Acupuncture, Dr. Krumpak has also earned post graduate continuing education credits in the following clinical areas:
Whiplash and Motor Vehicle Crash Injuries
Nutrition
Physiological Therapeutics
Neurology, Exercise Rehab
Extremity Orthopedics (shoulder, arm, elbow, wrist, hand, hip, leg, knee, ankle, foot)
Orthotics (custom made shoe inserts)
Electrodiagnosis
Pediatrics and Geriatrics
Activator Method Technique
Treatment of Intervertebral Disc Herniations
Treatment of Work Injuries
He is a member of the American Chiropractic Association; the Ohio State Chiropractic Association, where he serves as District Director for Eastern Ohio; the Eastern Ohio Chiropractic Society, for which he served as President for two separate 2-year terms; and the American Board of Chiropractic Orthopedists. Dr. Krumpak is also a member of the Ohio Bureau of Worker's Compensation Disability Panel. This means that in addition to providing care for his own patients who have been injured at work, his training and experience is used by the BWC as advice on treatment recommendations and time off work for other doctor's patients. And he has performed over one thousand disability calculations. These are utilized by the Bureau when a worker has some degree of permanent injury involved.
Get Started Today
"I believe that chiropractic is an essential component to a healthy lifestyle. I've seen evidence in my own life and of those around me. Thanks for visiting our site. I look forward to meeting you in person and learning how we may be of service to you and your family. Contact our office today and let's arrange a time to explore your options to better health utilizing chiropractic care."
---
Dr. James Krumpak | (330) 757-1151